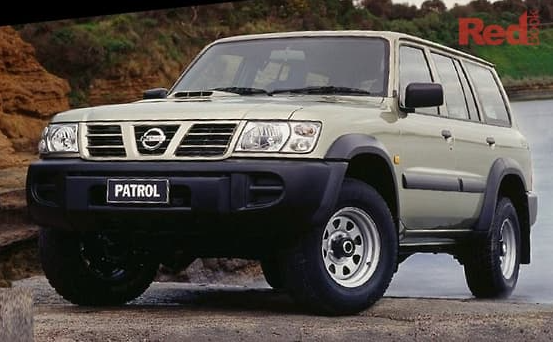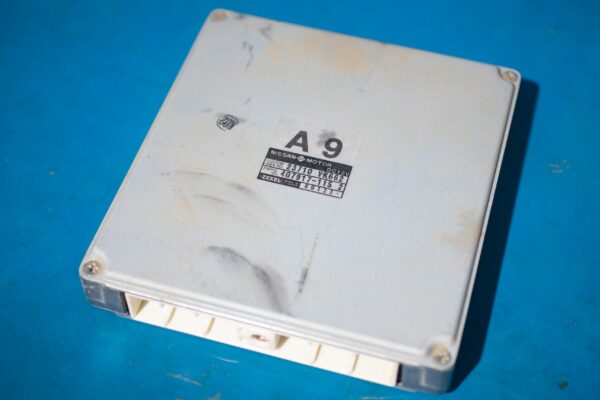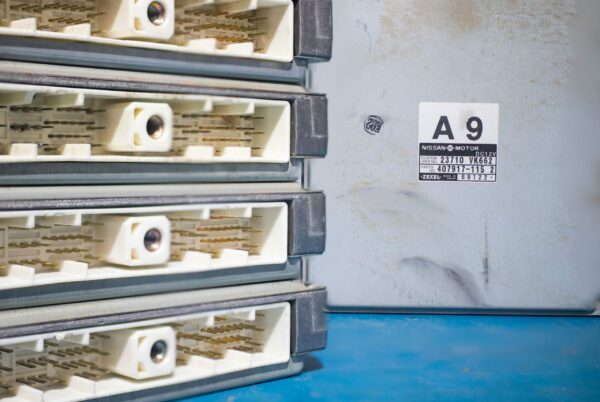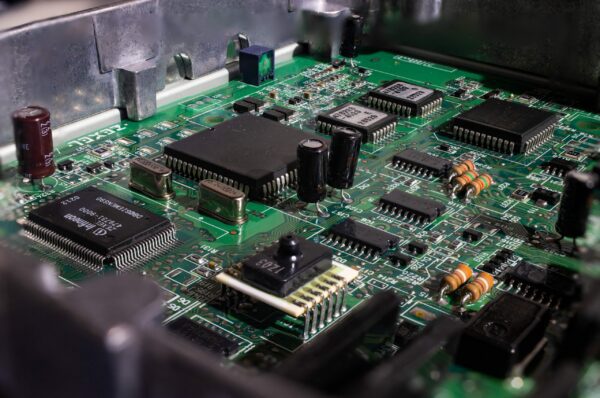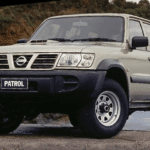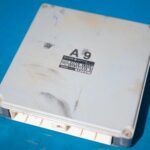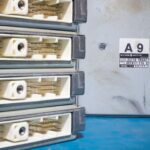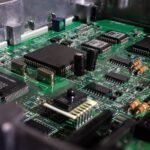 Nissan GU Patrol ZD30di Remap – Loaner unit
$675.00
or 4 fortnightly payments of $168.75 with
More info
Description
Additional information
Description
We do our best to keep our turn around times to within 1 business day. Please keep in mind that even though we do use an Australia Post Express service this does not always mean transit times are overnight.
This is for our loaner unit service.
The Gu Patrols have an immobiliser that keeps your ECU bound to your immobiliser module. If you can't afford to have your vehicle off the road while you send in your ECU we can send you a standard loaner ECU with the immobiliser disabled so you can continue to drive your car while your ECU is in transit.
For other potential solutions/work-arounds please contact us.
The Process (How the loaner unit option works):
You purchase this product from our store. Listing performance modifications during checkout.
We send you a standard ECU that has had the immobiliser disabled so it will work in your car.
Once you receive the loaner unit you send your stock ECU to us in the supplied prepaid Australia Post Express bag.
Once we receive your stock ECU we will remap it and send it back via Australia Post Express service.
You receive your remapped ECU back and fit it to the car.
Send back the loaner ECU in the included prepaid Australia Post Express Bag.
All freight costs are included in the purchase price of this item.
---
Prerequisites (Things required to supply you with a remapped ECU):
Increase Boost: If you are running factory boost control (no needle and dawes valve – or equivalent) there is no need to do anything here. If you are running aftermarket boost control you will need to ensure this is set to run 20 PSI.
---
Custom Dyno Tuning
We are able to dyno tune your vehicle if you're local to Albury to get the most out of it which will generally be more than the gains from a mail order tune as our mail order tunes are designed to be conservative/safe for the process. On the dyno we are able to health check your car and tailor a tune to suit.
Furthering our Mail Order Tunes
If you have performance mods that you want to make the most of we can tailor a tune for you. We will continue to develop more levels of mail order tunes as time, demand and local customers permit (we require vehicles with the same supporting mods to tune with) so if you have a certain requirement please feel free to contact us.
---
Stage 1 Mail Order Tune
We have currently developed one mail order tune to suit 20 PSI of boost and a standard or 3″ exhaust. This tune will suit vehicles with other mods such as an aftermarket intercooler and a high-flowed turbo but it  be may not be using those mods to their full potential.
Some benefits of our Mail Order Stage 1 ECU Remap:
More power and torque which results in:

Not needing to change down gears as often to maintain speed up hills etc
Easier/quicker overtaking. "Don't need as much of a run up"
Less turbo lag on takeoff
Easier/nicer towing
Less stress pulling out onto busy high speed roads

A more linear and responsive accelerator pedal

Less 'throttle lag' so the accelerator pedal doesn't feel as 'doughy'
Less dead spots so its smoother to drive

Cruising EGTs are generally lower
Fuel economy increases. Most customers report on average an extra 100kms per tank
A disabled EGR system (no blocking plate required)
Power and Torque Increases:
The dyno graph to the right shows the general gains we see in power and torque from our mail order Stage 1 conservative Remap. The is recommended for people towing a lot and want something reliable/safe without getting the car on the dyno.
Torque:
Before: Peak Torque of 293.7Nm at 2448rpm
After: Peak Torque of 426Nm at 1926rpm
Peak increase of 45% or 132Nm at peak torque. Peak torque has also dropped nearly 500rpm down from 2448 to 1926 rpm.
Power:
Before: Peak power of 71kW at 3742rpm
After: Peak power of 81W at 2574rpm
Peak increase of 15% or 10kW across the majority of the rev range Peak power has dropped from 3742 to 2574 rpm.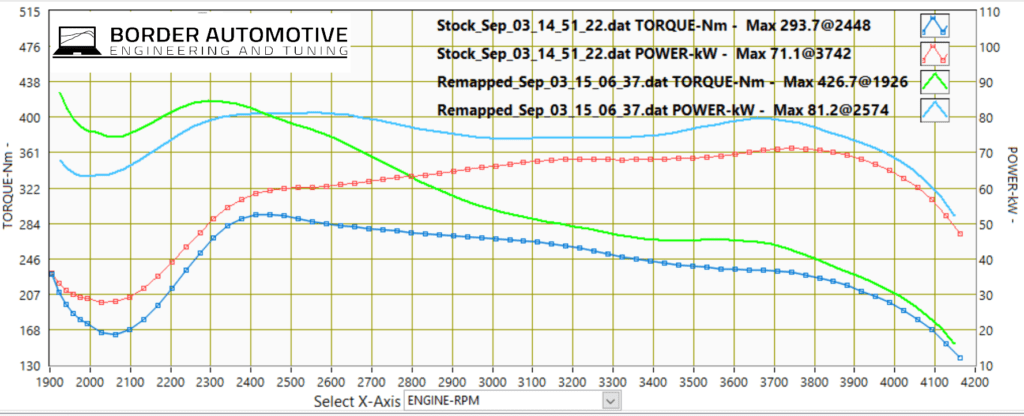 ---
Examples of Modifications that will effect the tune:
Bigger exhaust
Intercooler
Non-Stock turbo
Bigger injectors
Water-Meth injection
Intake side (including airbox) on the higher power tunes
LPG injection
Additional information
| | |
| --- | --- |
| Weight | 0.800 kg |
| Dimensions | 30 × 20 × 10 cm |