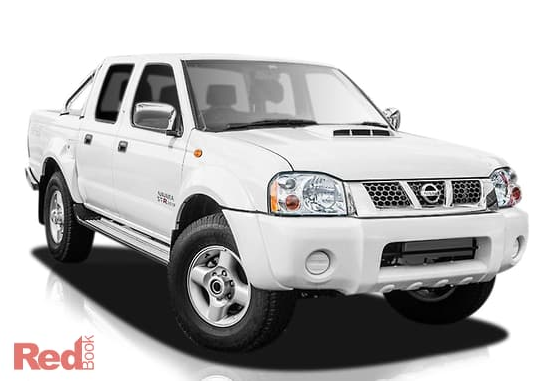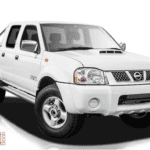 Nissan D22 YD25 Navara ECU Remap – Outright
$750.00
or 4 fortnightly payments of $187.50 with
More info
Description
Additional information
Description
Due to demand we currently have a 3 to 4 day lead time from the time of order on all YD25 Remaps. We are doing our best to keep up with demand and are always working to reduce this delay. Please bare with us while we fill our orders.
If you would like a more accurate lead time please contact us.
Our Outright option allows you to get a remapped ECU while not having any downtime with your vehicle and once installed you keep your stock ECU.
If you don't need to keep you stock ECU please view our Exchange Option.
Ensure you follow the guide at the link below for supplying your injector codes. Failure to do so may delay your order. Injector Code Guide
If you can't read your injector codes – we cant read them either and you will be asked to supply a better photo which will delay your order and potentially require you to remove your intercooler again.
The Process (How the outright option works):
You purchase the outright option from our store and enter in your supporting mods during the checkout process. If you have any extra supporting mods that aren't the standard turbo, exhaust and intercooler there is a custom text box during checkout for you to enter your details. The image to the right shows what you will be presented during checkout. Please ensure each box is filled in.
You send us your injector codes which will allow us to code the injectors from your car to your new ECU. For details on how to obtain these please view our guide at YD25 D22 Injector Codes. You can upload photos containing the injector codes during the checkout process. The image to the right shows what you will be presented with during the checkout process where you can upload your images. You may also email them to us with your order number.
We prepare one of our ECUs for you with a tune to suit your supporting mods.
We code your injectors to your remapped ECU.
ECU is sent to you via an Australia Post Express service.
You fit the remapped ECU following the steps listed on our YD25 D22 ECU Installation page.
Once fitted you keep your stock ECU.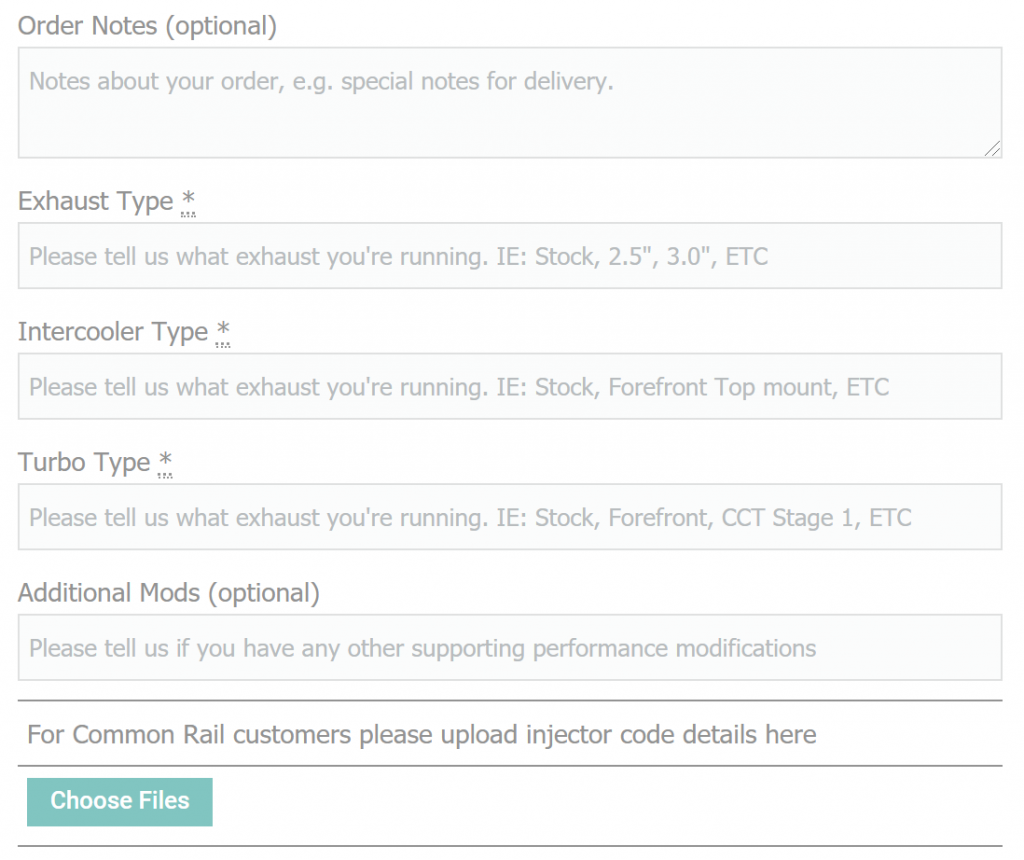 ---
Prerequisites (Things required to supply you with a remapped ECU):
Increase Boost: The amount of boost these engine run is not controlled by the ECU. In any tune above the base tune you will be required to increase the amount of boost being run. To do this you will need a boost controller. A manual boost controller (AKA Boost T) is the cheapest, easiest and most simple way to achieve this. You will also require a boost gauge so you know what to set it to.
Injector Codes: We require your injector codes to program into the remapped ECU before we send it out. Please follow the guide linked YD25 Injector Code Guide on how to find your injector codes. If you have any issues please contact us.
---
Custom Dyno Tuning
We are able to dyno tune your vehicle if you're local to Albury to get the most out of it which will generally be more than the gains from a mail order tune as our mail order tunes are designed to be conservative/safe for the process. On the dyno we are able to health check your car and tailor a tune to suit.
---
Furthering our Mail Order Tunes
If you have performance mods that you want to make the most of we can tailor a tune for you. We will continue to develop more levels of mail order tunes as time, demand and local customers permit (we require vehicles with the same supporting mods to tune with) so if you have a certain requirement please feel free to contact us.
Stage 1 Mail Order Tune
We have currently developed one mail order tune to suit 20 PSI of boost and a standard or 3″ exhaust. This tune will suit vehicles with other mods such as an aftermarket intercooler and a high-flowed turbo but it  be may not be using those mods to their full potential.
Some benefits of our Mail Order Stage 1 ECU Remap:
More power and torque which results in:

Not needing to change down gears as often to maintain speed up hills etc
Easier/quicker overtaking. "Don't need as much of a run up"
Less turbo lag on takeoff
Easier/nicer towing
Less stress pulling out onto busy high speed roads

A more linear and responsive accelerator pedal

Less 'throttle lag' so the accelerator pedal doesn't feel as 'doughy'
Less dead spots so its smoother to drive

Cruising EGTs are generally lower
Fuel economy increases. Most customers report on average an extra 100kms per tank
A disabled EGR system (no blocking plate required)
Power and Torque Increases:
The dyno graph to the right shows the general gains we see in power and torque from our mail order Stage 1 Remap.
Torque:
Before: Peak Torque of 231Nm at 2520rpm
After: Peak Torque of 397Nm at 2100rpm
Peak increase of 23% or 76Nm and peak torque comes in at 420rpm lower in the rev range.
Largest torque gain of 37% at 1800rpm (270Nm to 370Nm)
Power:
Before: Peak power of 76.1kW at 2940rpm
After: Peak power of 92.2kW at 2940rpm
Peak increase of 21% or 16.1kW across the majority of the rev range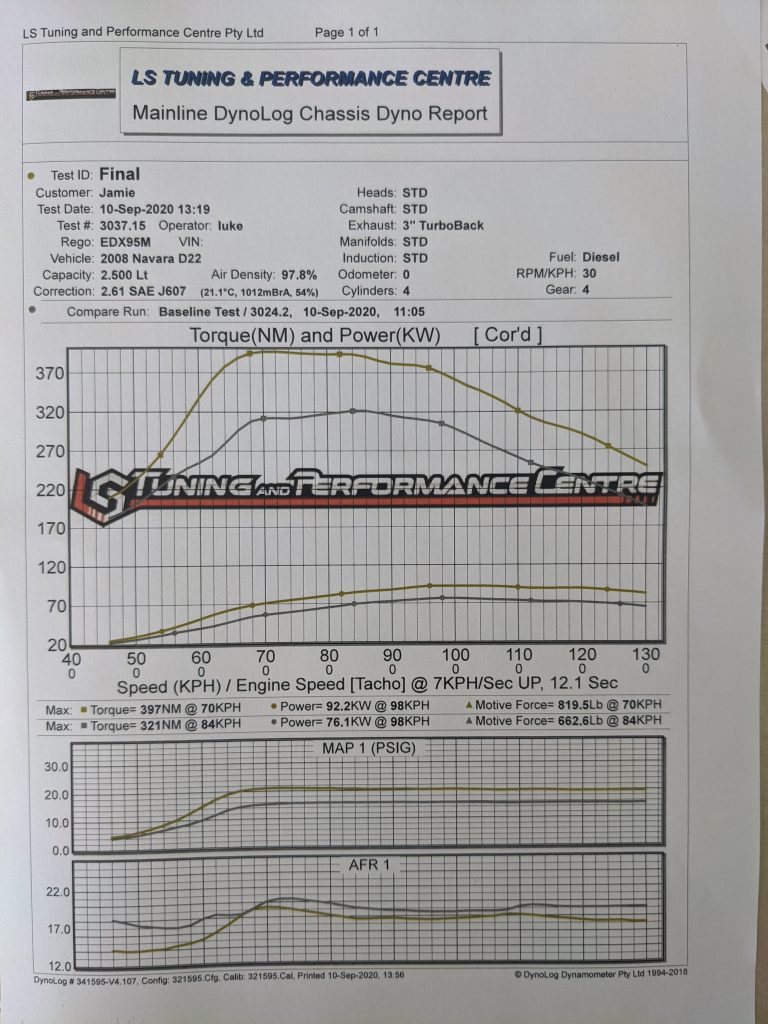 ---
Examples of Modifications that will effect the tune:
Bigger exhaust
Intercooler
Non-Stock turbo
Bigger injectors
Water-Meth injection
Intake side (including airbox) on the higher power tunes
LPG injection
Additional information
| | |
| --- | --- |
| Weight | 0.800 kg |
| Dimensions | 30 × 20 × 10 cm |